Those requests are coming. I wanted to have them done sooner, but life kind of got in the way. Don't worry - I'll find time to finish them very soon. I already had this made and just hadn't gotten around to posting it yet.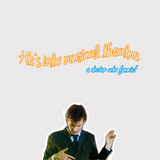 Yes, a Doctor Who fanmix comprised solely of Broadway tunes...how fantastic! In "Daleks of Manhattan" Tallulah said "He's into musical theater" and I thought, well, what if you took that literally. So yeah, this mix is meant to be what would be on the Doctor's "Broadway" playlist were he to have an ipod. It's basically just songs I picture him listening to while he's sitting on the TARDIS and in need of some good old sing-and-dance-your-heart-out kind of music. This is meant for cracktastic fun.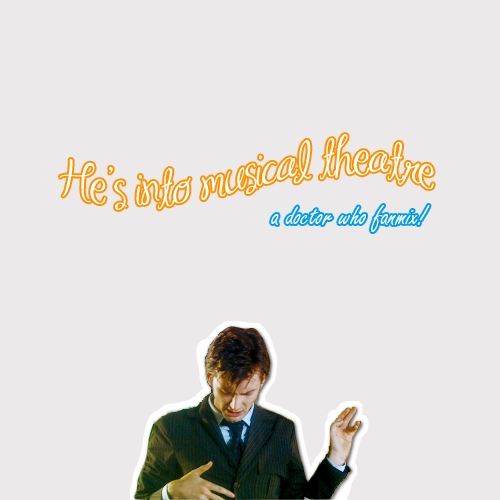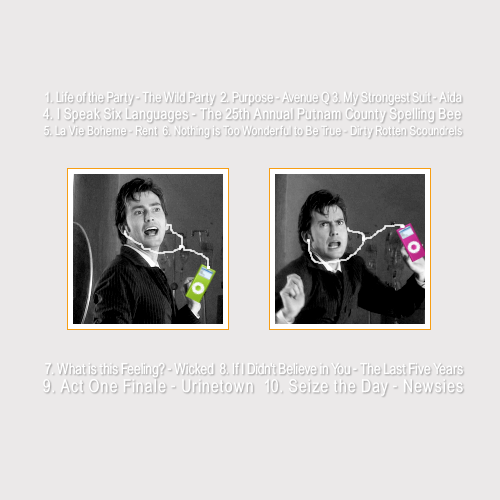 1) Life of the Party - The Wild Party (Lippa)
All I need is room to fight
Hand in fisted glove.
Point me to the sky,
It's my turn to fly.
Can't you just imagine the Doctor, sitting in the Tardis, thinking he's all alone, and just belting this out at the top of his lungs? Well I can. It helps him release stress, I imagine.
2) Purpose - Avenue Q
What will it be? Where will it be?
My purpose in life is a mystery
Gotta find my purpose, gotta find me!
If the Doctor's feeling blue and unsure of himself, he puts on this song and all those feelings just float away.
3) My Strongest Suit - Aida
From your cradle via trousseau
To your deathbed you're on view, so
Never compromise, accept no substitute
I would rather wear a barrel
Than conservative apparel
For my dress has always been
My strongest suit
No this is not to say the Doctor's greatest attribute are his clothes, but come on, he is one snappy dresser.
4) I Speak Six Languages - The 25th Annual Putnam County Spelling Bee
I Speak Six Languages
All-American in hockey
And anything I do
I do without getting sore
I Speak Six Languages
And I like the theme from Rocky
Though I play Mozart more
The Doctor is a bit of your classic overachiever and he's not afraid to tell you about it every once in a while.
5) La Vie Boheme - Rent
To loving tension, no pension
To more than one dimension,
To starving for attention,
Hating convention, hating pretension,
Not to mention of course,
Hating dear old mom and dad
The Doctor is a pretty nifty sort of guy and he's got a sense of "stickin it to the man" about him, don't you think? He values life and living, which is this song in a nutshell. And I also imagine he just likes to play this song very, very loud while running 'round the TARDIS, dancing like a fool.
6) Nothing is Too Wonderful to Be True - Dirty Rotten Scoundrels
Look at the way the moon behaves.
Look at the way she paints
A silver ribbon on the waves.
One thig I've learned and I'll share
with you-
Nothing is too wonderful to be true.
Yeah, this song is totally meant to bring on the lolz rather than be serious, but the Doctor can still relate. He's always fascinated by the Earth and the things humans do, I'm sure even if it is a guy who ate his t-shirt on a dare.
7) What is this Feeling? - Wicked
Let's just say - I loathe it all
Every little trait, however small
Makes my very flesh begin to crawl
With simple utter loathing
There's a strange exhilaration
In such total detestation
It's so pure and strong!
Heh, this one's all about the Master. Here the Doctor is clearly Elphaba and the Master is Glinda...will they ever sort out their differences and just learn to get along?
8) If I Didn't Believe in You - The Last Five Years
If I didn't believe in you, we'd never have gotten this far
If I didn't believe in you and all of the ten thousand women you are
If I didn't think you could do anything you ever wanted to
If I wasn't certain that you'd come through somehow
The fact of the matter is, RoseCathy
I wouldn't be standing here now
Ouch, this one's about Rose (particularly Impossible Planet/Satan Pit!Rose) When he get's all angsty and sad, he puts this song on and reminisces. This was actually on my post-Doomsday-10/Rose-mix-of-total-angst-a
nd-woe, but I never actually got around to making that, so here it is.
9) Act One Finale - Urinetown
Free! People are free!
How can a fee enslave us?
See how we can be
Free from the chains
He gave us!

We're suffering now
Such lives of sorrow
Don't give us tomorrow
Just give us today!
The Doctor often stands up against injustice and sticks up for the little people, so he can relate to the people of Urinetown. (And even if it doesn't fit exactly, it's like my favorite Broadway song ever, so I couldn't leave it out!)
10) Seize the Day - Newsies
Friends of the friendless, seize the day
Raise up the torch and light the way
Proud and defiant
We'll slay the giant
Let us seize the day
Ok, so this one isn't a Broadway musical, but rather a maybe not so good Disney musical, but I just had to put it on here. The Doctor's all about living life to the fullest and fighting for what's right and this song inspires him to do so, even when stuff gets bad.
All songs + art in a 41mb zip
Icons:
So there you have it, the Doctor likes to end things on a high note, ready to kick ass and
and sell some papes
seize the day. Yay...this is the first fanmix I've done in a really long time, so I'm sorry if it's a bit bad. And I haven't really listened to any new broadway stuff in quite some time, so that's why most of the stuff is circa 2000-2005. But yeah, download, comment and give me some feedback, but most importantly, enjoy!