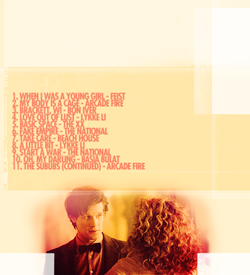 Aaaaah, River and Eleven, how I have fallen for them hard lately. This has been stirring in my brain for a couple of days so I went ahead and did it. Tried to get a good mix of sad and sexy. That's basically what these two are to me, ha. Anyone still reading this straight from livejournal can find me on tumblr now at
featurefilms
. Those who came from tumblr, thank you! As always, comments, notes, reblogs, and all that always put a smile on my face. Thanks for looking and happy listening!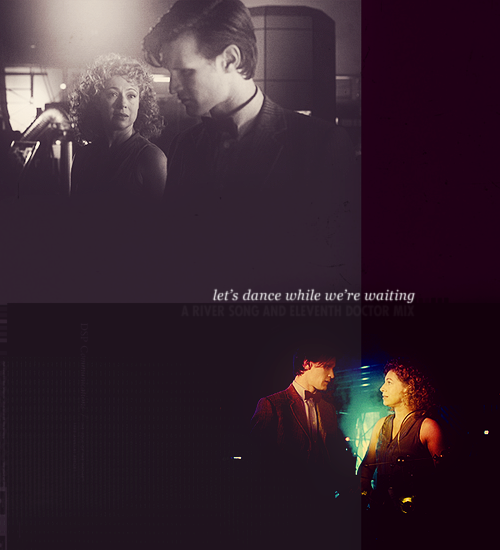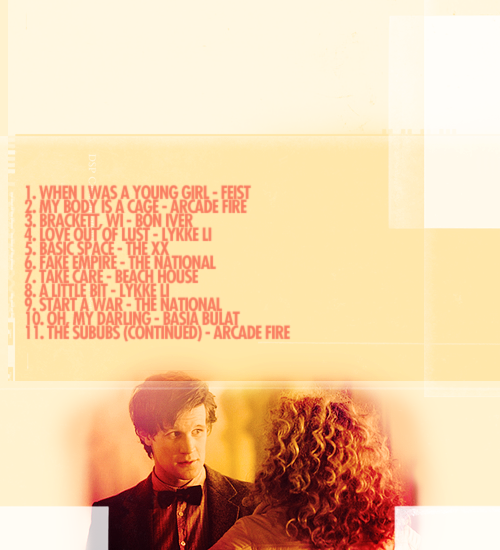 1) When I was a Young Girl - Feist
When I was a young girl I used to seek pleasure
When I was a young girl I used to drink ale
Out of the ale house down into the jail house
2) My Body is a Cage - Arcade Fire
My body is a cage
That keeps me from dancing with the one I love
But my mind holds the key
3) Brackett, WI - Bon Iver
and here we are rebuilding roads
right by roosting towns.
it's just like the love
-the one that's never been enough.
4) Love Out of Lust - Lykke Li
I'm running out of time
So let's dance while we're waiting

We will live longer than I will
We will be better than I was
We can cross rivers with our will
we can do better than I can
so dance while you can
Dance cause you must
Love out of lust
Dance while you can
5) Basic Space - The xx
I've suffered shipwrecks right from the start
I've been underwater, breathing out and in
I think I'm losing where you end and I begin
6) Fake Empire - The National</a>
Turn the light, out say goodnight
No thinking for a little while
Let's not try to figure out everything at once
It's hard to keep track of you falling through the sky
7) Take Care - Beach House
Stand beside it, we can't hide the way it makes us glow
It's no good unless it grows, feel this burning, love of mine
Deep inside the ever-spinning, tell me does it feel
8) A Little Bit - Lykke Li
push a button
pull a trigger,
climb a mountain
jump off a cliff,
'cause you know baby
i love you love you a little bit
i would do it, i would say it
i would mean it, we could do it
it was you and i and if only i...

9) Start a War - The National
You were always weird but I never had to hold you by the edges like I do now
Walk away now and you're gonna start a war
10) Oh, My Darling - Basia Bulat
there are two things I will carry in my pockets at the end
oh, my darling,
you are one of them
the way you look when you have a story to begin,
oh, my darling,
that's the other half.
11) The Suburbs (continued) - Arcade Fire
If I could have it back
All the time that we wasted
I'd only waste it again
All songs + art in zip
Enjoy!